Depth of Field: Selections from the Bill Rhoades Collection of Northwest Photography
January 4 – April 23, 2022
Study Gallery and Print Study Center
For the past twenty-four years, collector Bill Rhoades of Madras, Oregon, has donated hundreds of examples of Northwest art to the Hallie Ford Museum of Art, including paintings, prints, drawings, sculpture, and Native American art. In recent years, Rhoades has turned his attention almost exclusively to photography. Organized by curator Jonathan Bucci in collaboration with Rhoades, the exhibition presents a range of Northwest photographs donated to the Hallie Ford Museum of Art by the collector. 
The photography focus within the museum's Bill Rhoades Collection has grown extensively in recent years and explores the history of Northwest photography through some of the most significant regional photographers and photo groups of the past one hundred years. The early art photography movement had important contributors in the Pacific Northwest, including Edward Curtis and Imogen Cunningham in Washington, both represented in this exhibition, and Myra Wiggins and Lily White in Oregon. The exhibition also includes work by photographers from the Farm Security Administration (a 1930s WPA-era federal project that included Dorothea Lange and Russell Lee among others), the Advanced Interim Workshop (a Portland based group led by Minor White that began in 1959),  Blue Sky Gallery (founded in 1975 as a venue for the newest ideas in contemporary photography), and the Portland Photographic Workshop (a group formed in 1982 by Stu Levy and Stewart Harvey to improve craft and aesthetics). In addition to photographers who fit into this historical framework, the collection holds work by other influential photographers such as Mary Randlett, Michael Kenna, and Robert Adams, as well as a range of contemporary photographers from the Northwest. 
---
Exhibition Brochure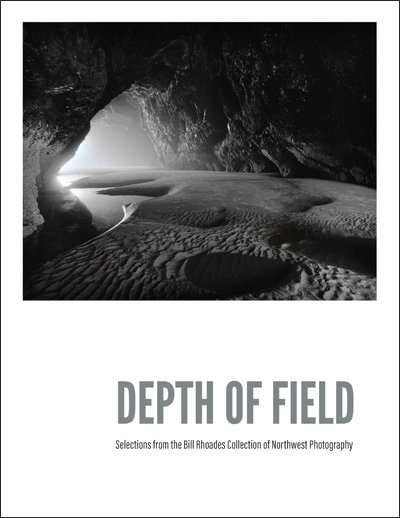 As a special feature, the exhibition is accompanied by a 6 page brochure with an essay on Rhoades and the collection by professor emeritus of art history Roger Hull. 

Complimentary brochures are available at the museum or through the museum's online store for a shipping and handling fee of $1.50. 
---
Related Events

Members First Saturday with collector Bill Rhoades
March 5 | 10 am - Noon

April 2 | 10 am - Noon
Current museum members are invited to join collector Bill Rhoades at the Hallie Ford Museum Art. Rhoades will be available to answer questions and provide insight into the Depth of Field: Selections from the Bill Rhoades Collection of Northwest Photography exhibition.

Check in
Museum members and special invited guests are invited to check in at the front desk.

New and renewing members are welcome 

.........................................................

Depth of Field: A Panel Discussion Exploring Modern Photography in the Pacific Northwest 
Was recorded March 10, 2022 | 6 p.m.

This panel discussion explores the history of modern photography in the Pacific Northwest with a focus on Oregon. This program was offered in conjunction with the Depth of Field: Selections from the Bill Rhoades Collection of Northwest Photography exhibition. 

Panelists include: 
Bill Rhoades (collector)

Prudence Roberts (art historian)

Stu Levy (photographer)

Craig Hickman (photographer)
Moderator: 
CLICK HERE TO VIEW THE RECORDING
---
Financial Support
Depth of Field: Selections from the Bill Rhoades Collection of Northwest Photography has been supported in parts by funds from the HFMA Exhibition Fund, by advertising support from The Oregonian/Oregon Live; and by general operating support grants from the City of Salem's Transient Occupancy Tax funds and the Oregon Arts Commission.